MEET THE MUSICIANS
Voted a "best book" of the year by the New York Public Library and the Bank Street College of Education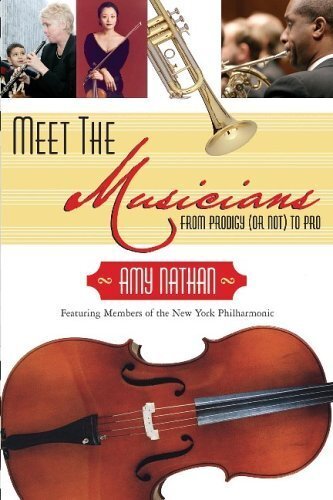 New York Philharmonic musicians tell how they got into music as kids and describe the ups and downs along their musical way. These 15 pros also share practice tips for kids today.
"An upbeat title that should find its way into every core music collection." The Bulletin of the Center for Children's Books
"Student musicians and teachers will enjoy the engaging profiles of New York Philharmonic musicians, and will benefit from the practical tips for effective practice and performance that these experienced musicians offer."
- Polly Kahn, American Symphony Orchestra League
"MEET THE MUSICIANS tells us what we want to know about how all sorts of kids end up being highly disciplined orchestral musicians, as physically skilled as athletes and as emotionally skilled as actors."
- Peter Schickele, host of "Schickele Mix" on Public Radio, also known for having discovered the works of P.D.Q. Bach
The author has had first-hand experience helping motivate kids to keep on with music as the mom of two musical sons. Both of her sons started learning to play instruments at a young age. Her older son is now a composer, trumpeter and new assistant professor of composition at Brown University (www.EricNathanMusic.com). Her younger son is saxophone-playing jazz enthusiast, on the political science faculty at the University of Michigan.