From ballerinas to Broadway show-stoppers,
these dancers were kids once, too!
"Anyone, whether considering a career in dance or not, will be inspired and educated by these up-close-and-personal accounts."
--School Library Journal

"...fun and informative." --Pointe's e-newsletter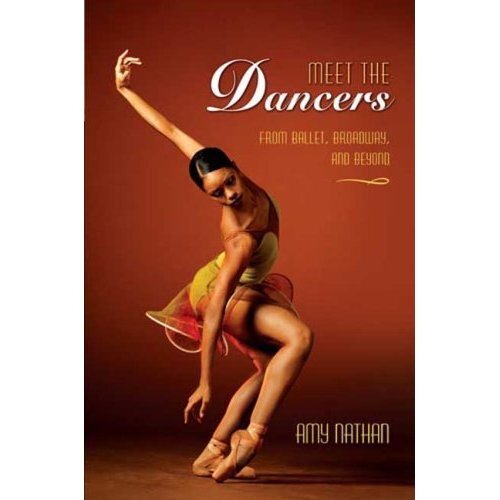 MEET THE DANCERS introduces sixteen "kids" who became interested in dance as youngsters. These "kids" are actually sixteen professional dancers from ballet and modern dance companies as well as from the worlds of Broadway and music videos. Each dancer describes how they got hooked on dance as kids and the path each dancer took (with all its ups and downs) to become the astonishing professional dancers they are today, providing "insider insights" into what it takes to be a dancer.
Dancers featured have performed with such companies as New York City Ballet, ABT, Alvin Ailey American Dance Theater, Paul Taylor Dance Company, Mark Morris Dance Group, Morphoses, Boston Ballet, Houston Ballet, The Color Purple, Movin' Out, and more....
FEATURED DANCERS:


- Gillian Murphy, ABT
- Clifton Brown & Glenn Allen Sims, Alvin Ailey American Dance Theater
- Teresa Reichlen & Amar Ramasar, New York City Ballet
- Lauren Grant & David Leventhal, Mark Morris Dance Group
- Julie Tice, Paul Taylor Dance Company
- Aesha Ash, New York City Ballet, LINES, & Morphoses
- Lauren Anderson, Houston Ballet
- John Selya, ABT & Broadway
- Elizabeth Parkinson, Joffrey & Broadway
- Jamal Story, Broadway, Superstar Tours, & Donald Byrd/The Group
- Sarah Wroth, Boston Ballet
- Nick Florez, L.A. dancer
- Nancy Lemenager, Broadway
Awards:
Notable Social Studies Trade Book – MEET THE DANCERS - NCSS
Kansas State Reading Circle 2008 – MEET THE DANCERS


Here are a few gripes that kids jotted down on questionnaires that I sent to dance programs around the country about ten years ago when I was at the very beginning stages of the research for this book on dance:

-- "I used to hate adagio because I was so horrible at it.
-- "Barre is either too easy or too hard."
-- "All we ever do are pirouettes. Boring!"
-- "The repetition, doing the same movements day after day, gets boring, especially if the teacher doesn't laugh."

Starting my research with kids is something I've done for all my advice-giving books for young people — the two books I wrote on musicians, my reports on allowances and homework, and now this new book on dance. With all these books, I've polled kids first to find out what they'd like to see covered in the books.

For MEET THE DANCERS, I had some personal experience to draw on, too, having taken ballet classes as a young girl and modern dance during college and for a few years after. However, I was never a very good dancer. I was always the one lurking in the back row, never quite sure which step to do when. I knew what frustrated me about class. But what about kids who are really serious about dance — and pretty good at it, too? What bugs them about dance training? Those are the kids who would be most interested in reading the book I hoped to write, a book in which successful professional dancers offer advice to struggling young students.

To find out what issues serious dance students would like to see covered in such a book, I contacted six excellent dance programs around the county whose directors agreed to pass out my questionnaires for students to fill out before or after class. This wasn't a formal survey with hard data to be tabulated. Instead, it was an anecdotal-type of questionnaire. It started by asking students to tell about the kinds of dance they'd been studying and for how long. Then the form encouraged them to "tell it like it is," listing what bothers them as well as what they love about dance. I received completed questionnaires from 75 youngsters, ranging in age from 10 to 15.

As might be predicted, there were plenty of complaints about the "boring," repetitious aspects of class. Quite a few kids reported having combination-learning difficulties. For some students, the problem wasn't so much being a slow combination picker-upper, but feeling competitive with how well they did the steps, feeling discouraged when they didn't do a combination as well as a classmate. Other aspects of the competitive nature of dance earned comments as well: not landing a good part in the big show, not moving up to the advanced class, interpersonal friction with fellow students, not getting into a prestigious summer program.

There was a bit of grumbling about teachers — either for being too demanding or not demanding enough — as well as concerns about the constant scrutiny that is an inescapable part of a dancer's life, the never-ending chore, as one student said, of "correcting your corrections."

Some students were bothered about the emphasis on being thin. Other concerns: worries about whether they'll make it as dancers, getting the jitters during performances, and the constant struggle to find time for dance and everything else a kid has to do. Although these students loved dancing, a few admitted to being discouraged and wondering if maybe it was time to quit.

After locating a publisher, I began looking for dancers whose life stories could give kids ideas on how to cope with the concerns raised by the students I had polled. I wanted to be sure to feature some dancers whose careers hadn't always been smooth sailing, but who had persisted and succeeded despite the bumps along the way. For advice on dancers to select, I spoke with officials at major dance companies and with a prominent dance agent. I also interviewed several dance educators. I wound up interviewing 16 wonderful artists. Some dance with major ballet companies, others are in modern dance companies, several have been Broadway show stoppers, and a few have made a splash in the world of music videos and superstar tours.

When I interviewed each of these professional dancers, I asked them to talk about how they got into dance as kids and the ups and downs in the paths they took to become pros. I also asked specifically about the concerns raised by the students I had polled.

No surprise: The pros had dealt with the same issues themselves as kids. In MEET THE DANCERS, I present these dancers' life stories along with their practical, down-to-earth advice on how to cope with such hassles as how to make adagio and barre less boring, how to be a better combination picker-upper, how to calm performance jitters, how to deal with corrections without beating up on yourself, how to keep competitiveness from getting you down, how to handle the time crunch, and how to survive teenage burn-out.

Several dancers describe in the book how they dealt with the challenge of having body types that didn't fit the tall-lanky-classical-dancer stereotype. Lauren Grant, now an amazing Mark Morris dancer, was heartbroken as a kid when she was turned down for a big Nutcracker performance because her "look" wasn't right. As Lauren explains in MEET THE DANCERS: "I didn't have the tall, slender ballerina look. I was very short. Still am. I have a muscular lower body. I felt horrible! I wanted to be a ballerina." But she kept going and found her place in the world of dance. So did others of the book's dancers.

ABT's Gillian Murphy shares a special insight in her chapter on something she discovered during her training that made her a better performer. "The purely technical part of dance isn't the main point of a performance," she notes. "Performing is about sharing the moment with the audience, sharing the emotional development of the character." Jamal Story, who was assistant dance captain of The Color Purple when I interviewed him, gives similar advice in his chapter: "In performance, stop worrying about what you look like, what your leg or foot looks like. Worry about that when you take class. . . . When you perform, it should be about what you're saying." Jamal's advice — encouraging kids to get good enough at technique in class so they can stop worrying about it in performance — may make all those repetitions at the barre seem more bearable for kids today who may have mixed feelings about barre, just as the students did who filled out questionnaires for me all those years ago and helped get this book project up and running.

© 2008 Amy Nathan
For more information:

e-mail: AmyNbooks@gmail.com