A RIDE TO REMEMBER: A Civil Rights Story
"Delivers a beautiful and tender message about equality from the very first page." —Kirkus (Starred Review)
"One of best picture books of 2020" —from Brown Bookshelf and also from Bank Street College of Education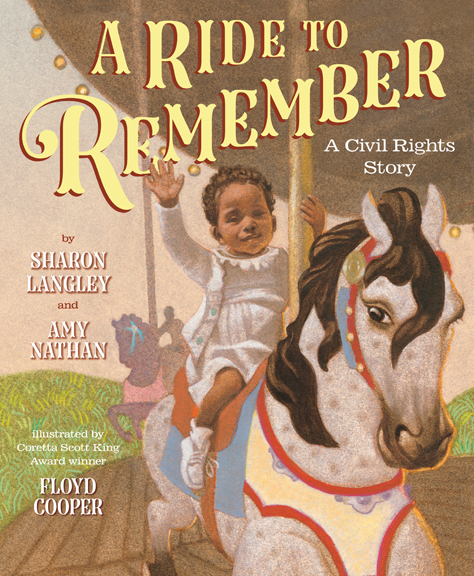 "Framed as a conversation between Langley and her parents, the story recalls the sustained efforts of people working together. . .The structure of the carousel itself becomes an unexpected metaphor: 'Nobody first and nobody last, everyone equal, having fun together.'"
—Publishers Weekly (Starred Review)
A RIDE TO REMEMBER
A Civil Rights Story
by Sharon Langley and Amy Nathan
Illustrations by Coretta Scott King Award-Winning Artist Floyd Cooper
Abrams Books (2020) — ISBN 978-1-4197-3685-8
The story is told through the eyes of Sharon Langley, who as an 11-month-old was the first African American child to go on a ride at Baltimore's Gwynn Oak Amusement Park on its first day without segregation—August 28, 1963—taking a spin on the merry-go-round, with her father by her side.
In this picture book, Sharon is presented as an older child—a six- or seven-year-old—being told by her parents the story of the park, the protests, and the significance of her history-making ride. A Ride to Remember is based in part on an earlier book for teens and adults by Amy Nathan that presents the Gwynn Oak story in more detail, Round and Round Together: Taking a Merry-go-Round Ride into the Civil Rights Movement. Both books stress the interracial and interfaith "coming together" that was a key element of two days of massive, peaceful protests at Gwynn Oak Amusement Park in July 1963, with participation by people of all ages, including children. Nearly 400 protestors were arrested, including many clergy—Catholic, Protestant, and Jewish—a first for the civil rights movement. These protests and the extensive press coverage they received led to the end of segregation at the amusement park on the same day that Rev. Dr. Martin Luther King, Jr., delivered his "I Have a Dream" speech at the March on Washington for Jobs and Freedom in Washington, D.C.
Since 1981, a few years after the amusement park closed after being devastated by a hurricane, the merry-go-round Sharon rode as a child has been on the National Mall, not far from the Lincoln Memorial where Dr. King stood to give his famous speech. The horse Sharon rode in 1963 is now decorated with the names of civil rights heroes; her name is inscribed on a metal plate attached to the saddle and on one of the horseshoes.
A Ride to Remember presents carousels as a metaphor for equality and fair treatment. As the text notes: "Everyone is equal when you ride a carousel."